The 2023 Mercedes-Benz C-Class is a luxury compact car that offers a blend of performance, comfort, and technology. It comes in several body styles including sedan, wagon, and coupe, with a choice of gasoline, hybrid, and electric powertrains.
The starting price of the 2023 Mercedes-Benz C-Class varies based on the trim level and powertrain option selected. The base model C300 starts at around $45,000, while the high-performance C63 AMG starts at around $75,000.
The exterior design of the 2023 C-Class is sleek and sporty, with a bold grille, sloping roofline, and distinctive LED headlights. The car is slightly larger than its predecessor, offering more interior space and a more spacious trunk.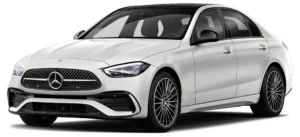 The interior of the 2023 C-Class is elegantly designed, with premium materials and advanced technology features. Standard features include a 12.3-inch touchscreen infotainment system, Apple CarPlay and Android Auto compatibility, and a 14-speaker Burmester sound system.
Available options include a larger touchscreen display, a panoramic sunroof, and a premium ambient lighting system.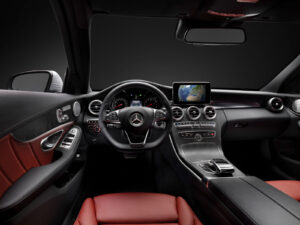 Under the hood, the 2023 C-Class offers a range of powertrain options to suit a variety of driving needs. The base engine is a turbocharged 2.0-liter four-cylinder that produces 255 horsepower and 273 lb-ft of torque. There is also a turbocharged 3.0-liter inline-six engine that generates 385 horsepower and 384 lb-ft of torque.
The C300 and C43 AMG models are equipped with a hybrid powertrain that combines a turbocharged four-cylinder engine and an electric motor for improved efficiency and performance. The C350e plug-in hybrid offers an all-electric range of up to 52 miles and a combined output of 308 horsepower.
The 2023 C-Class features advanced safety and driver assistance technologies as standard, including blind spot monitoring, forward collision warning with automatic emergency braking, and active lane-keeping assistance. Available options include adaptive cruise control, a 360-degree camera system, and a head-up display.
In conclusion, the 2023 Mercedes-Benz C-Class is a well-rounded luxury compact car that offers a blend of performance, comfort, and technology. Its stylish design, spacious interior, and advanced features make it a top choice in its class.